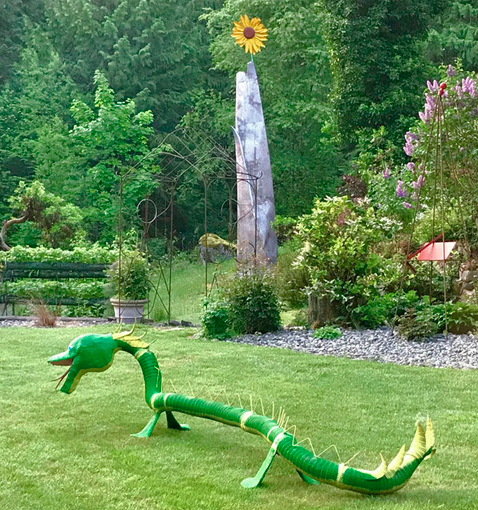 Garden Joy
Size 4′ x 4′ x 25 ft
Armature of cedar logs form the bush in the background
Covered with gavanized sheet metal. Flower – Fibreglass
This was a collaboration with my son, Doug Scholes,
who resides in Montreal and is a recognized artist.
http://dougscholes.ca/
Duff the Dragon
We know about Puff the magic dragon… Meet Puff's brother, Duff.
Length 16 feet
Stainless Steel tubing, 1/4″ rod, fibre glass, chicken wire
Hoot'n Hootie
Created Mar 2013.
It has a home on a property near Pembroke Ontario which is now named Hootie Point.
Materials used:
ReBar,  Galvanized metal, Scrap plate steel and Aluminum Pot Cleaners
Made from blocks of cedar, steel, ABS tubing Cross platform of Oak Plywood
Size 6' x 40" x 24"
The blue and green rings represent Health, Education and Arts. These are cutbacks which have been nailed and screwed.
The Red ring represents the Athletics.
The Yellow ring represents the Politics.
Sitting Pretty 2013
When stuff hangs around the studio long enough it will become a form/object/sculpture that adorns our gardens. These old chairs use were used in my Atelier when teaching art.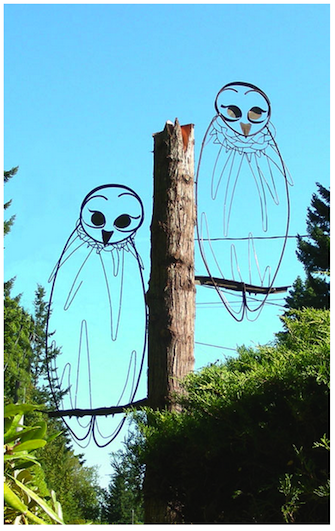 Hooters 2008
This Owl scuplture stands 10 feet in height.
Each year we have a family of two new owls and during the time of raising these young Owlets the mother 
is close at hand and is quick to hiss at passer-byers and look down at you with complete disdain